TST NEWSLETTER – 18/07/2021
What's The Point?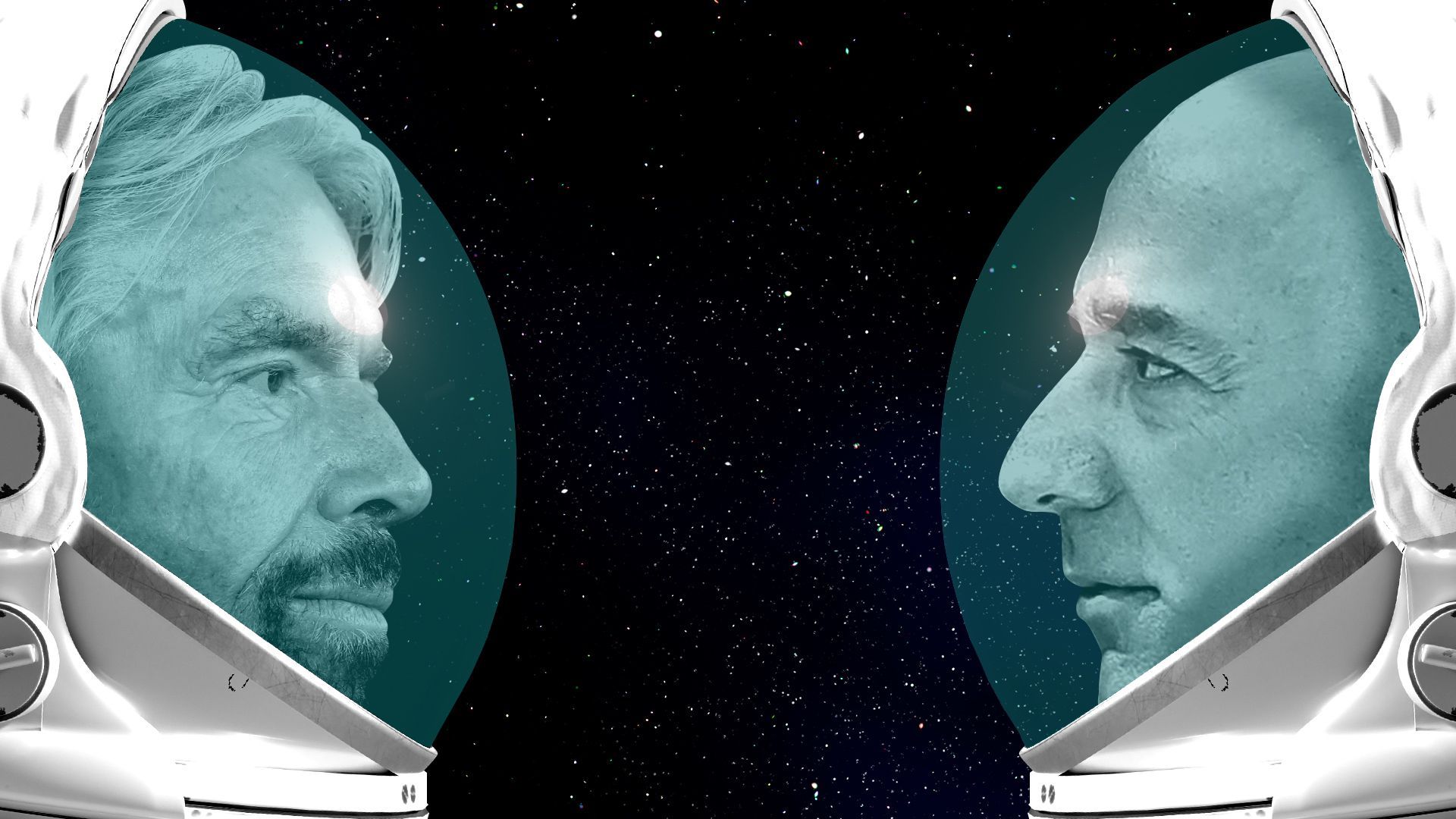 Source: Axios
---
Topics:
What's The Point? Space Race Of The Super Rich
Last Week In The Forex Markets
Top 3 Pairs For Next Week
The Social Traders Free Training Video
---
What's The Point? Space Race Of The Super Rich
---
Summary
Sir Richard Branson has been the first of the super-rich, space conquering trio to enter space first hand. Onboard his very own Virgin Galatic Spacecraft, he was able to reach 80km above the earth's surface.
With an estimated net worth of $5.8bn & being a respectable 70 years old, he has beaten his somewhat friendly rivals in almost reaching the edge of space.
---
The Matter at Hand
Sir Richard Branson has become the first of the space conquering trio, to enter the realms of space itself.
However, Branson did not pass the edge of space, other speculating he was at least 20km away from the edge of space, technically not making this attempt a confirmed entry of outer space.
Regardless, Branson has set the pace for his somewhat friendly rivals, Elon Musk, and Jeff Bezos, both being heavily invested, involved and at the forefront of our exploration of space.
Jeff Bezos and four passengers will join him for an all exclusive viewing of our earth and to reach the true edge of space, these guests are yet to be announced.
Source: Sky News
As shown in the photo above we can see where Bransons 'Spaceship Two' reached, we can also see where Bezo's 'New Shepard' rocket will reach. Subsequently, we can see the pure power of SpaceX's 'Super Heavy' & 'Starship' rockets are capable of achieving.
So you may be asking yourself "What is the point of all of this?"
Well to tell you the truth, in Branson's case it merely seemed like a childhood dream that played out, giving him something to work towards and an overall sense of achievement, as he starts to look to take a more relaxed approach to life this could be a tick off the bucket list.
However, for Bezo's, it may be more of an egotistical sense of achievement and the added proposition for space tourism.
Source: Business Insider
Many are concerned with the use cases for these space crafts capabilities, see we have so many issues going on worldwide like poverty, power issues, sustainability, food and material shortages, and many more, so you would think with the power, money, and influence these guys to have they'd start to change the current world we inhabit for the better, instead of using their wealth to take space vacations?
It's not also to mention the amount of money poured into R&D and the environmental costs to getting men and women into space.
Elon Musk has stated his concerns on the current state of the world, leading way for developing Tesla, renewable energy sources like his solar-powered roof installations, and the boring company.
He also has lots to be working on following the NASA contract he secured, we covered this back in our newsletter – 'Turn The Ship Around.
So what part will this trio of space leading giants play in our future?
---
What Can We Expect Over The Next Year?
Space tourism is becoming a real part of that sector, offering many people the chance to enter space for a quick trip, longer stay or talks of a space hotel…. now, however great that sounds, we still have the same issues as raised above, that being…… why?
We can expect to see this continue into the following years with Bezo's company Blue Origin saying they will sell seats for tourists to enjoy a flight on their 'New Shepard' rocket.
For the need and want of this travel, we may see it become the new holiday destination, or it may just become a very elite experience for the super-rich of the world.
Given the chance, would you take a trip onboard one of the tourist rockets to space?
---
What Can We Do As Traders?
For those who trade the stock market, there may be some great opportunities to be had on Virgin Galactic's stock gains, however, this space is very volatile.
However, we cannot profit from SpaceX, nor Blue Origin as of yet, as these companies are privately listed.
As always guys are careful when trading anything that comes with big risks, this is not financial advice.
---
Last Week In The Forex Markets
Yoyo like markets this week, some good volume seen in the markets, followed by some unforeseen moves.
This week we are breaking down three trades we took last week that didn't play out to plan.
---
EURJPY: [Break Even & -1%]
EURJPY looked to be shaping up to be a great setup, unfortunately, we didn't get the momentum shift we wanted, however, let's go over this setup from last week.
We can see that this pair has been pushing lower, but we could argue that price action is looking exhausted, this gave us cause to look for confluences for our case.
We can see we had a minor break of high (BOH), which can offer reasons for bullish intent.
In this case, we had identified the block of orders being the cause for this minor break of high, our first entry is the top of the order block was promptly seen with a nice push away.
However, this was met with a break-even being taken.
Our next point of interest was the 50% of the order block, entered from the 50% of the block, we can see price didn't play ball, taking us out for -1%.
---
EURGBP: [-1%]
EURGBP has a similar story to EURJPY.
We seemed to have just been unfortunate with calling the right direction for the EUR pairs, however, our risk management allows us to stay above the water and continue to accumulate profits in the long run.
Breaking this pair down, we have another minor break of structure.
We can take this as a cause for potential momentum change, naturally, we had identified the block of orders, being the cause for the minor break of high (BOH).
We entered from 50% of the block, but similar to the breakdown above, we were met with a -1% loss.
---
USDJPY: [Missed]
USDJPY offered us a potential setup last week.
We were looking at the block of orders in play which was the cause for a break of high (BOH).
Simply looking to trade price back to the previous structure, however, we didn't get that commitment to the upside we wanted to see.
Instead, price action sent the momentum down, plummeting through our area of interest, luckily this was a trade we missed and didn't take due to the other setups not playing out.
---
Top 3 Pairs For Next Week
Every Saturday we send a 'Market Breakdown' to our Pro Members, this week we are taking a look at three setups for next week.
Coming from a slow and up and down week of trading last week, we are anticipating some clear direction to be established.
---
GBPJPY: [Long]
First up, we are looking at GBPJPY, taking a look at price action, we can observe it moving in a descending channel.
We also can see we have broken previous structural highs, naturally, we know this can give cause to a momentum change.
Identifying our areas of interest, we can see that there are two points we are interested in.
The first area of interest being the block above, this was the main pump by the big boys to cause the break of high.
The second area of interest, being the bottom of where the bullish momentum started, also coinciding with the higher time frame structure.
We covered this in much more depth with our Pro Members, so be sure to check out our membership plan, if you are looking to develop your trading skills, join a like-minded community, and receive the latest market updates.
---
USDCHF: [Long]
USDCHF is looking to be forming an excellent setup for us to capitalize on heading into next week.
We are dealing with some pattern separation here, we can see the price is ascending in nature, within our higher time frame pattern, we can see a smaller descending channel, following the break of high (BOH), we can see that we have a block of orders in play where we can look to take this long position from.
Here at The Social Traders, we know that these setups have a high probability of playing out over and over again, this could be a really great trade heading into next week so be sure to keep up with us on Slack for more updates.
---
EURNZD: [Long]
Finally, for our final setup for next week, we are looking at EURNZD longs.
Here we can see the price has been ascending in nature, following the higher time frame structure.
Looking at the counter-trend move, we can see price action is descending in nature, giving us a pattern within a pattern. With some nice bearish momentum pushing price action down to previous order blocks, we could look to take this pair long next week, given the right confluence.
We would like to see the block of orders which has yet to mitigate, become mitigated and then continue the overall pro trend.
---
The Social Traders Free Training Video
This week we thought we would treat our free members to a free training video.
Here we will be covering 'discretion', now this is a subject all traders should take notes on as Dylan will explain in the free training video below.
We plan on doing more like this so be sure to let us know what you guys think and if you would like to see more of these!
---
Want to learn exactly how we trade the markets?
Why not check out our 'pro package'? You will gain access to our in-depth course as well as many more features – www.thesocialtraders.com
We thank you for reading this week's addition to the TST Newsletter, have a great trading week, and stay consistent. – 'The Social Traders Team'
Written by – Karl Milward