TST NEWSLETTER – 14/03/2021
Turn Around For The S&P 500 Index
Source: Jove Conscious Foundation
---
Topics:
S&P 500 Index Overview & Prediction
Last Week In The Forex Markets
Top 3 Pairs For Next Week
NEWSFLASH: Oil Prices Soaring To Old Highs
---
S&P 500 Index Overview & Prediction
The S&P 500 has been one of the best investments to make since its first launch in 1923, by 1926 it was tracking 90 stocks, and by 1957 it was tracking 500 of America's largest companies. So why is such a long-term investment now looking bleak for the future? It lies down to Chief Jerome Powell.
Source: FKnol.com
He believes that he has got it incorrect and will have to raise rates sooner than originally expected, not only will this effect the S&P 500 but will the NASDAQ, and other Index's alike.
Bond Yields have been on the rise when other Index's that are at the forefront of the US economy were not. Bond Yield rates have been rising sharply and it is warned that the NASDAQ could drop 20% if they reach 2%, alongside this, there is increased inflation taking place in the US economy.
If you align this with Joe Biden's recent signing of $908bn in fiscal stimulus then the US economy may be heading for disaster.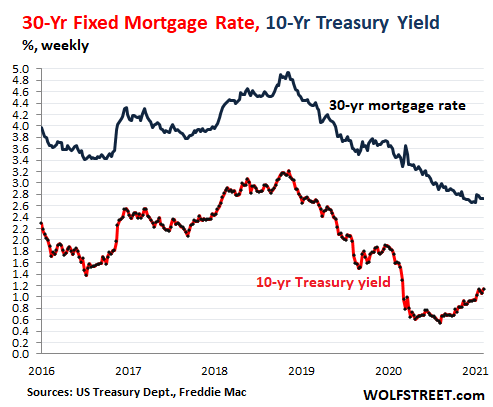 Source: Wolf Street
So is the S&P 500 Index a good investment right now for the Bulls? Probably not, for Bears though you may want a piece of the action. But as always let's wait for further development on this.
---
Prediction:
Here is our TST prediction for the S&P 500 Index.
We see price progressing in the ascending channel, we can see price action is very tight at the moment so we could just drop off from here BUT we do not think that will be the case.
Price could pop up, break the old high at 3964.7. This would give us a great opportunity to take this to the downside and may line up with a stall before a crash.
---
Last Week In The Forex Markets
With the markets seeing a slow increase of liquidity in 2021 we want to reflect on the week, so let us take a look at the somewhat slow but fruitful week
CHFJPY: [+2.4%]
This is a trade which we took and was sent out to our TST Pro Members.
CHFJPY gave us a textbook setup which was taken with a good understanding of technical analysis, here we saw an ascending channel after an impulse. The larger ascending channel in play price action revealed a reversal pattern, this being a smaller channel signifying a strong chance of a reversal.
This exact trade was taken off the 117.140 level, and profit was secured shortly after the break of structure.
Could have been taken to lower levels but profits are profits.
---
EURUSD: [+4.09%]
This one has been eyed up in the Pro Community for several weeks now, we are looking at a longer-term play on the $$$ weakness.
So this entry was taken after a head and shoulders pattern was formed on the DXY. The correlation between EURUSD and the DXY is almost 100% negative, so this allowed us to see an inverse head and shoulders on this pair.
A Fibonacci level was applied to identify an area of the price that would pull back to, we were looking to enter around the 78.6% Fib level. For those who are still holding this well done, we are expecting a push higher on this for next week.
---
GBPUSD: [Missed Trade]
GBPUSD was on our watchlist this week, after making a somewhat slow push up in an ascending channel this week we finally saw it reach our area of interest.
Price stalled in our AOI but this was one a few members caught and most missed due to the markets no being very committing at the moment.
So with this pair rocketing to the downside shortly after a third touch of ascending channel and a renter to 4hr structure.
For those who missed this but had it marked up then that is a positive, we cant catch them all.
---
Top 3 Pairs For Next Week
Gold (XAU/USD):
Every Saturday we send a 'Market Breakdown' to our Pro Members.
This week we are looking at this move on Gold, as we can see gold has been dropping lower for the last few months. Price is hitting key areas that we should be on high alert as traders. XAU/USD had a reaction caused by a drop of the DXY but the price has started to fall correctively when we see this there is a strong chance we can capitalize on the move.
We will be looking for the price to fall correctively into our 78.6% Fibonacci level, this would be the most ideal place to take this trade.
If price is falling impulsively to AOI then do not enter, wait for clarity on this move.
---
NZDCHF:
This pair has broken highs and is now falling correctively. We would want to see price pop a little lower into the areas marked with a descending channel, trend line, and Fibonacci level.
This could be a lovely move we see happen mid week. We really want to see that slow, tight price action into the fib level and third tap of structure.
As always we never jump into trade we have a saying 'Plan the Trade & Trade the Plan'
---
EURUSD:
Looking at this pair from last week some of our members are in this trade and will be looking to target the larger pattern in play but here could be a way to get involved.
We may be seeing the price come down for a retest of the daily descending channel, this would be to collect more orders before pushing to the upside.
This will be one to watch early week if you are already holding this position or are looking to capitalize.
---
[NEWSFLASH]
Oil Prices Soaring To Old Highs
We have seen increased and rapid increases in the price of oil, the have now reached levels once seen before the pandemic.
In turn, this has given huge strength to the Canadian Dollar, due to them being a large exporter of mineral fuels.
So the real question is, will these prices last? Well, it's hard to say, with the world somewhat returning to normal the use of oil is becoming more demand so the price will naturally go up but will the demand be higher than before? We will have to wait and see but none the less oil is having the return it deserved after an all-time historical low for oil earlier in 2020.
So what are your thoughts on oil, do you think it will continue to rise? or do you see this being the start of more downside for oil? Let us know!
---
---
Want to learn exactly how we trade the markets?
Why not check out our 'pro package'? You will gain access to our in-depth course as well as many more features – www.thesocialtraders.com
We thank you for reading this week's addition to the TST Newsletter, have a great trading week, and stay consistent. – 'The Social Traders Team'
Written by – Karl Milward